As COVID-19 cases continue to fall amid lockdown restrictions, and vaccines are rolled out at varying rates across the globe, businesses are continuing to look for new and innovative ways to protect employees from coronavirus exposure in the workplace.
For many, the vaccine rollout provides a light at the end of the tunnel – and proactive leaders are getting the right safety measures in place now to enable a safe return to work when the time comes.
Of course, many organisations are unable to operate remotely, with their workforces continuing to physically attend work throughout the pandemic. These businesses have faced endless challenges in protecting the health and safety of their employees over the past year, with some facing litigation for failing to put the right measures in place.
Whatever your company's circumstances, ensuring you have the right measures in place to protect your employees, and your business, against COVID-19 exposure should be a top priority. However, this doesn't just mean complying with regulations: leading employers are going above and beyond legal obligations to help keep coronavirus out of the workplace.
We explore how daily self-screening for employees can help reduce the risk of a COVID-19 outbreak among your workforce.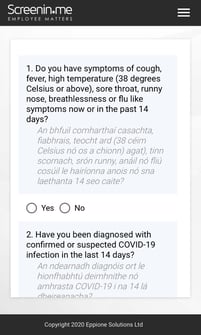 What is Daily Self-Screening?
Essentially, self-screening helps ensure employees are monitoring their own health and wellbeing to spot potential symptoms of the virus.
Each day before leaving for work, employees answer a few questions to identify any potential risks – such as symptoms, contact with someone who has tested positive, or overseas travel. By asking the right questions, employers can help remove any doubt in the employee's mind as to whether they should attend work that day.
How Can it Help Protect My Employees?
By supporting employees to continuously monitor their own status and instantly report potential symptoms, daily self-screening can help keep those at risk of carrying the virus away from the workplace.
Over recent months, we've seen a growing stigma around testing positive for COVID-19. As a result, some people may not feel comfortable enough to speak directly with their line manager or HR department about potential symptoms and risk factors – particularly if they're already concerned about job security.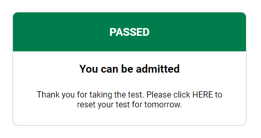 Self-screening can provide a highly confidential platform for employees to instantly and easily report potential symptoms. With solutions like Screenin.me, employees receive an immediate result to clearly indicate whether they should go to work.
So, those experiencing symptoms can stay home with confidence, while those without can go to work safe in the knowledge that their employer is doing what they can to keep COVID out of the workplace.
How Can it Help Protect My Business?
Failure to protect your employees against COVID-19 can have a number of potentially detrimental impacts on your business – including reputational damage, employee dissatisfaction, and even legal action.
Daily self-screening can add an extra layer of protection against the risk of a workplace outbreak, while providing you with the tools and data to demonstrate your continuous commitment to protecting your employees' wellbeing.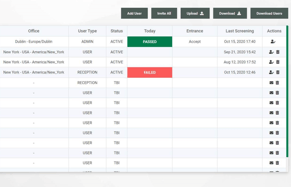 With the right self-screening solution, you can automatically generate and maintain accurate records of screening results and workplace admission. So, if an outbreak does occur, you have the right information available to immediately begin tracking who might have come into contact with the virus, and quickly instruct them to stay home to prevent further infection.
Such records could prove invaluable, should you face legal action for not putting the right measures in place. Of course, you'll still need to show compliance with all other areas of COVID-safe regulations – but providing accurate reports of self-screening can help demonstrate the additional measures you have adopted to safeguard employees.
Can I Do Self-Screening In-House?
More sophisticated self-screening solutions will provide a clear, instant result to employees, while communicating this result to admin or entry management personnel and maintaining accurate, confidential records. However, we're seeing some businesses creating their own self-screening forms in-house. Not only do these generally have limited functionality, but in some cases data protection and security has been problematic, with access rights more difficult to manage.
Creating, managing and monitoring your own self-screening questionnaire can be extremely resource-intensive, potentially taking vital resource away from the plethora of challenges already being faced by HR professionals, risk managers and employers. As a result, investing in affordable self-screening technology can often be more cost-effective than managing it in-house.
What is Screenin.me?
Screenin.me is a simple, effective and affordable self-screening solution, supporting businesses of all shapes and sizes across the globe to reduce the risk of COVID-19 exposure.
Our cloud-based platform allows employers to define their own questions, with different question sets based on job role, location, or any other variable you choose. Employees can access their daily questionnaire on mobile, desktop or tablet, making it as easy as possible to complete the daily screening.
Accurate reports are maintained automatically, and kept highly confidential and secure – while providing high level visibility into screening results for nominated personnel. So, you can help protect both your workforce and your business against COVID-19 exposure with minimal resource or budget required.
In February, we're giving away a free subscription through our prize draw! The winning organisation will be given free access to Screenin.me for up to 500 employees, for as long as they need it. Check out the full details, and enter the prize draw, here.
If you'd like to explore whether daily self-screening is right for your business, speak to one of our team today!