UK businesses could see a flood of litigation cases after the pandemic, with 1 in 10 already facing complaints for failing to put the right safety measures in place to protect employees and customers from COVID-19 exposure.
Since March 2020, employers' health and safety obligations have changed almost beyond recognition. Suddenly, we find ourselves navigating the complex world of PPE, social distancing, remote working, and even workplace testing and screening.
These ever-evolving guidelines and regulations are undeniably complex. But without having the right measures in place for your industry, location and site type, you face the risk of regulatory scrutiny – potentially resulting in hefty fines and reputational damage.
How Much is Being Claimed - and What For?
A recent study by Gallagher reveals that over 70% of claims management companies are already handling claims from both employees and customers, as a result of organisations failing to put adequate health and safety measures in place. Over the course of 2021, such claims are expected to rise by as much as 40%.
The majority of claims so far have been submitted for an individual having contracted COVID-19 on the premises; medical negligence; or poor working conditions during the pandemic. On average, claim values currently sit at around £5,500 for employee claims and £7,500 for those submitted by customers.
However, these figures are just the beginning. Businesses facing litigation will most likely incur substantial legal fees in order to defend themselves against any disputed claims.
How Can Employers Proactively Defend Themselves Against Claims?
First and foremost, it's crucial you're compliant with all the relevant regulations and guidelines. This won't necessarily be straightforward, with rules varying by industry, location, site type, organisational size, and even down to employees' individual circumstances.
As we all know, the restrictions associated with the ongoing pandemic continue to change, so it's important to continuously monitor the government's published guidance and amend your health and safety measures – and your risk strategy – accordingly.
But while navigating the inherent challenges of achieving compliance, employers must also document their compliance measures. Such records must be accurate and continuously maintained to provide empirical evidence of the steps you've taken to protect employees and customers. Otherwise, you could find yourself facing legal action despite having implemented the right measures.
Even once you've achieved regulatory compliance and ensured the right processes and documentation are in place, there may still be more you can do to reduce the risk of COVID-19 exposure. Employers have a duty of care to safeguard the wellbeing of employees, customers and any workplace visitors. According to ACAS, "this means they must do all they reasonably can to support their health, safety and wellbeing" – so any additional measures you can implement to reduce the risk of coronavirus exposure can help demonstrate your ongoing commitment to this duty of care.
We explore how you can go above and beyond compliance, adding an extra layer of protection against coronavirus, in our recent blog.
What Are Employees' COVID-Safe Responsibilities?
While much of the onus for COVID-Safe compliance naturally lies with the employer, your employees also have a key role to play in mitigating the risk of a workplace coronavirus outbreak.
Each individual has a responsibility to follow any COVID-Safe guidelines you have in place: but as an employer, you have a duty to communicate and enforce those guidelines. If you don't, you could be liable for the increased risk associated with employees' non-compliance.
Of these responsibilities, the perhaps most important – and most complex – is around symptom reporting. It's absolutely crucial that your workforce is empowered to be open and honest about any symptoms they're experiencing, or if someone within their household tests positive for the virus.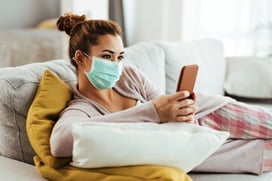 But with a growing stigma around reporting potential COVID-19 symptoms, ensuring your employees are communicating clearly, quickly and confidentially is often challenging. However, without encouraging your workforce to come forward immediately if they think they're at risk of carrying the virus, you could quickly see a single case become a widespread workplace outbreak.
Daily self-screening for COVID-19 symptoms can empower your employees to report symptoms and potential risk factors quickly, easily, and without compromising confidentiality. Find out how in our recent blog: Keeping COVID Out of the Workplace.
What Do Employers Need to Do Now?
If you haven't done so recently, it's imperative you re-familiarise yourself with all the latest government guidance. Being compliant in April 2020 doesn't necessarily mean you're compliant in 2021, so make sure your policies and safety measures are all up to date and fully documented.
Communicating and reiterating the measures you have in place, their purpose, and the responsibility of employees to support those measures can not only help improve compliance – it can also help reinforce your dedication to safeguarding your employees' health and wellbeing. By reassuring your workforce that you're doing everything you can, while building up a bank of evidence that the measures were put in place and clearly communicated to employees, you could potentially reduce the impact of any legal action.
Finally, explore additional measures you can adopt to go above and beyond compliance – such as daily self-screening. Any extra layers of protection you can introduce to minimise the risk of COVID-19 exposure can help protect your employees, customers and business, while continuing to demonstrate your commitment to COVID-safety.
If you'd like to learn more about daily self-screening for COVID-19 symptoms, get in touch with our team today!